Many are worried about the risk of war with Iran after the Trump administration leaked discussions of a troop deployment in response to claimed threats to U.S. warships in the region.
And in recent days, the rhetoric has only gotten more heated, with President Donald Trump saying a war would be "the official end of Iran." Iranian officials responded in kind.
But the truth is, the U.S. has been fighting a war with Iran for decades – an economic war fought via sanctions that has intensified over the past year and has already been devastating to innocent civilians in the country.
Not only that, it's also undermining long-accepted principles of international cooperation and diplomacy, a topic I've been researching for the past 25 years.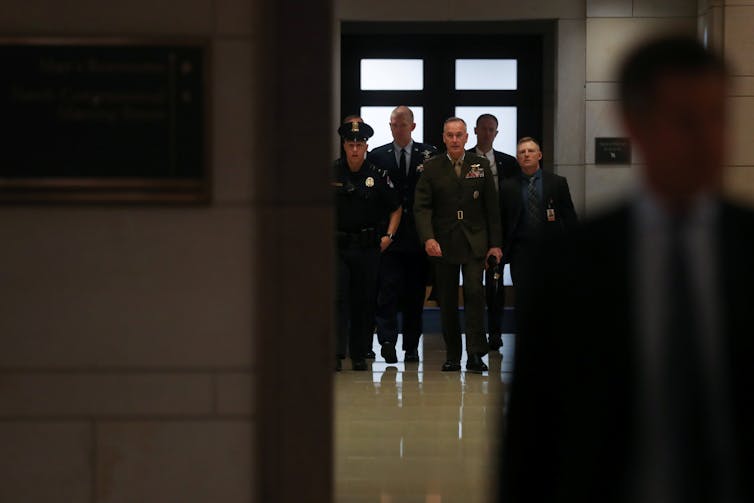 U.S. officials have been reviewing military plans involving a war with Iran. Reuters/Jonathan Ernst
Carrots and sticks
Many nations have recognized that sanctions work best as tools of persuasion rather than punishment.
Sanctions by themselves rarely succeed in changing the behavior of a targeted state. They are often combined with diplomacy in a carrots-and-sticks bargaining framework designed to achieve negotiated solutions.
Indeed the offer to lift sanctions can be a persuasive inducement in convincing a targeted regime to alter its policies, as was the case when successful negotiations involving the U.S. and Europe led to the Iran nuclear deal in 2015, which ended sanctions in exchange for Tehran shutting down much of its nuclear production capacity.
A year ago Trump withdrew the U.S. from that accord and not only re-imposed previous sanctions but added further restrictions, including so-called secondary sanctions that penalize other countries for continuing to trade with Iran.

In 2006, sanctions against Iran were multilateral in nature, which made them more effective. AP Photo/Frank Franklin II
Multilateral vs. unilateral sanctions
In an increasingly globalized world, unilateral sanctions like these – in which one country goes it alone – are rarely effective at achieving their end result, which in this case is regime change.
Multilateral sanctions involving several or many countries have greater impact and make it more difficult for targeted individuals or regimes to find alternative sources of oil or other goods. And getting authorization through the United Nations or regional organizations provides legal and political cover.
When the U.N. Security Council imposed targeted sanctions on Iran in 2006 over its illicit nuclear activities, for example, members of the European Union were able to join the U.S. and other countries in applying pressures that brought Iran to the bargaining table. That's what led to the negotiated nuclear deal nine years later.
The U.S. circumvented this voluntary multilateral process when it withdrew from the accord and unilaterally imposed "extraterritorial secondary sanction." These barred nations or companies that buy Iranian oil or other sanctioned products from doing business in the U.S.