Only a handful of the top companies in the U.S. are led by a woman.
Efforts to change that and promote more women into positions of leadership have relied primarily on questions of equality. But is there also a business case for putting more women in charge?
Previous research on differences in leadership styles between men and women has suggested the latter make decisions using more collaborative and relational methods, which enables them to better manage a range of groups and resources. But it wasn't able to show whether this actually led to better results.
Thanks to a new study we co-authored, we now have data that shows women-led businesses, in certain scenarios, do indeed perform better than those run by men.
The case for female leadership
Our research, conducted with colleagues Gonzalo Molina-Sieiro and Michael Holmes, focused on entrepreneurs trying to grow their nascent companies quickly.
We began with the results of the Kauffman Firm Survey, which tracked 4,928 companies founded in 2004 by conducting annual surveys through 2011. The database includes lots of information critical to understanding what factors influence performance, including revenue, employees and intellectual property. For our purposes, it also includes many details about the main entrepreneur and top managers behind the venture, including education, experience and gender.
Most entrepreneurs run small operations with few employees and little desire to grow much. A small share, however, lead what we call "high-growth ventures," which are often defined as companies that experience annualized employment growth of 20% or more during a three-year period.
These companies are a significant engine of economic activity, producing millions of jobs a year in the United States alone and are responsible for a majority of new jobs created in the U.S. over the last several decades.
For our purposes, we defined a high-growth venture as among the top 10% of all entrepreneurial businesses in our sample in terms of employee growth in any given year. While the majority of these were led by a male entrepreneur, about a quarter were run by a woman.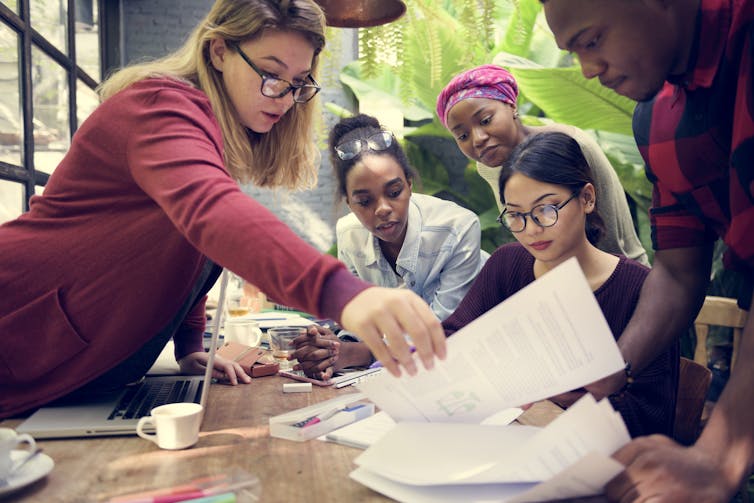 Women leaders tend to collaborate well with their team. Rawpixel.com/Shutterstock.com
Collaborative management styles
In our research, we started by comparing how female-led companies performed in terms of employee growth versus those helmed by men.
In preliminary analyses we found that, overall, a female-led business was less likely to experience high growth. However, we knew that there was more to the story since other research has indicated the strengths they bring to organizations.
Given what we know about female leaders' collaborative and relational know-how, we developed a theory that they should be particularly skilled at leveraging the talents of senior executives and managers. For example, many female leaders argue building relationships with employees helps create win-win scenarios where employees feel valued, which also helps them avoid the double bind of appearing too authoritative.
So we examined two markers of human capital and management talent: the number of top managers with a college degree or higher and how many had previous entrepreneurial experience.