The tiny Mexican town of Boquillas del Carmen sits nestled between the Sierra del Carmen Mountains and the Rio Grande. Its Chihuahuan Desert location is strikingly beautiful, with green vegetation along the river, the brown soil of the surrounding desert and pink mountain cliffs creating splendid color contrasts.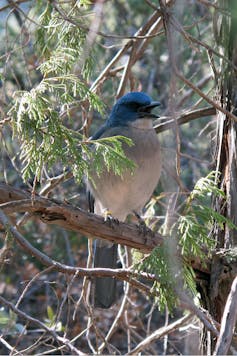 Mexican jays range north into the U.S. through the Big Bend region and in southeastern Arizona. NPS/Cookie Ballou
I have been taking students to this magnificent landscape for 20 years – mostly to Big Bend National Park in Texas, just a mile north of Boquillas. My colleagues and I have also studied the ecological and economic value of this habitat, one of the most biodiverse and ecologically important desert regions in the world.
Recently I returned to study the ecotourism and conservation potential of Boquillas. In the process, I learned about a local vision for the border that is strikingly different from the prevailing U.S. view.
Here the Rio Grande forms the line between the United States and Mexico. The river is an ecological gathering place that draws humans and wildlife. For Boquillas residents, the idea of building a wall here is sacrilegious. As Lilia Falcon, manager of a local restaurant, said to me, "We have friends on both sides of the river, we want these interactions to continue." Her husband, Bernardo Rogel, was more succinct: "We love both countries."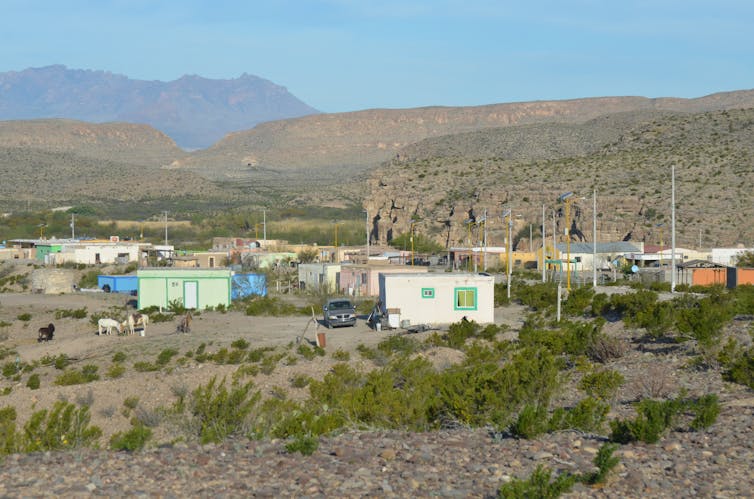 View of Boquillas, Mexico. Matthew Moran, CC BY-ND
A fragile ecotourism economy
Boquillas was originally a mining town, with local deposits of silver, lead and zinc that attracted prospectors. By the early 20th century, 2,000 people lived there and a thriving industry was exporting ore.
That boom turned to bust, and by the end of World War I the mines were closed. The town nearly disappeared in the 1960s, but in 1999 when I first visited there, it had about 200 residents. They made their living from cross-border tourism, with U.S. visitors to Big Bend National Park entering Mexico via a legal but unofficial border crossing.
After the September 11, 2001 terrorist attacks, however, the United States closed all of these informal crossings. Overnight Boquillas lost its income source, ruining livelihoods and jeopardizing years of effort by residents and government officials to build cooperative border relations.
The nearest place to get supplies was now a 300-mile round trip over rough roads deep into rural Mexico. Just three miles away on the U.S. side, gas, food and services in Big Bend National Park's Rio Grande Village campground were now inaccessible. Relatives who were citizens on opposite sides of the border were separated, 115 miles from the nearest legal crossing point.
After more than a decade of lobbying by residents, the U.S. government created a "remote" passport facility, where people crossing the border could present their documentation by phone to a border agent located in El Paso. Boquillas reopened and merchants and guides returned. In 2018 more than 11,000 visitors crossed over from the United States.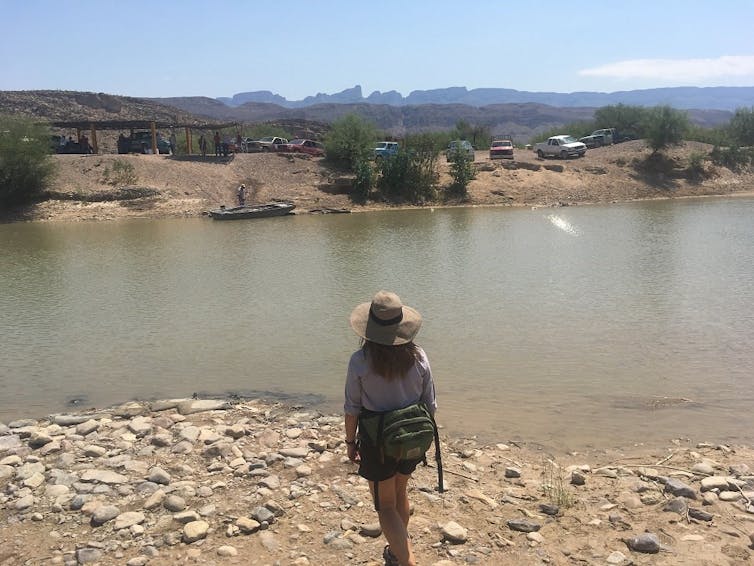 Crossing to Boquillas by rowboat from Big Bend National Park. NPS / T. VandenBerg
Today Boquillas residents are working again to teach visitors about this part of Mexico, and ecotourism companies are expanding. People here envision a future for the border in which respect, cooperation and shared economic gain will create a prosperous and sustainable future for communities on both sides.