After hurricanes Irma and Maria tore through the Caribbean in 2017, devastating dozens of islands – including billionaire Richard Branson's private isle, Necker Island – Branson called for a "Caribbean Marshall Plan."
He wanted world powers and global financial institutions to unite to protect the Caribbean against the effects of climate change.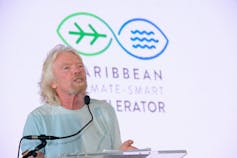 Branson at a Climate-Smart Accelerator event. Adrian Creary/Studiocraft, CC BY
That hasn't happened. So Branson and his government partners from 27 Caribbean countries hope that his celebrity, connections and billions will prod local politicians and the financial community to act.
In August 2018, at a star-studded event at the University of the West Indies in Mona, Jamaica, Branson helped to launch the Caribbean Climate-Smart Accelerator, a US$1 billion effort to kickstart a green energy revolution in the region.
Its aims include convincing global financial institutions to fund ambitious climate mitigation efforts in the Caribbean, upgrading critical infrastructure across this vulnerable region.
Well before Branson's arrival, however, some Caribbean countries were already working to break their dependence on fossil fuels.
Jamaica's modern energy grid
Even prior to the debilitating 2017 hurricane season, polling showed that a strong majority of people in the Caribbean see climate change as a very serious threat.
The region – where we study renewable energy and climate change – is home to 16 of the world's most climate-vulnerable countries.
That's because the stronger and more frequent storms, extreme droughts and coastal flooding that result from rising global temperatures hit rural island nations hard.
Before Branson took up the cause, several Caribbean nations were upgrading their electric grids to improve energy independence and better prepare islands for the impacts of storms that knock out power.
Jamaica opened the largest wind farm in the English-speaking Caribbean in 2004. The Wigton Wind Farm now helps power over 55,000 surrounding homes, households that would formerly have used some 60,000 barrels of oil annually.
As part of its national goal to generate 50 percent of all its power using renewable sources, Jamaica now hopes to build offshore wind farms.
It has also enhanced the stability of its grid with a hybrid energy storage system that uses a flywheel and a battery to store solar and wind energy for use as needed, including after storms.
From 0 to 100
Dominica is another Caribbean pioneer in climate mitigation.
This tiny island already generates 28 percent of its electricity from wind, hydropower and other renewable sources. In contrast, 0.3 percent of electricity in Trinidad and Tobago, the Caribbean's main oil exporter, is renewable.
In an effort to diversify its energy sources away from diesel, Dominica's government has secured $30 million from the international Climate Investment Fund and $90 million from the United Kingdom to invest in geothermal energy.
The country is on track to reach 100 percent renewable energy by the end of this year. If it succeeds, it will join Iceland in entirely forgoing dirty oil, coal and gas energy.
Dominica may soon have some more local competition.
Barbados, in the eastern Caribbean, hopes to use 100 percent renewable energy sources by 2030 using a mix of wind, solar and biofuels derived from food waste and grass, which could benefit the island's ailing agricultural sector.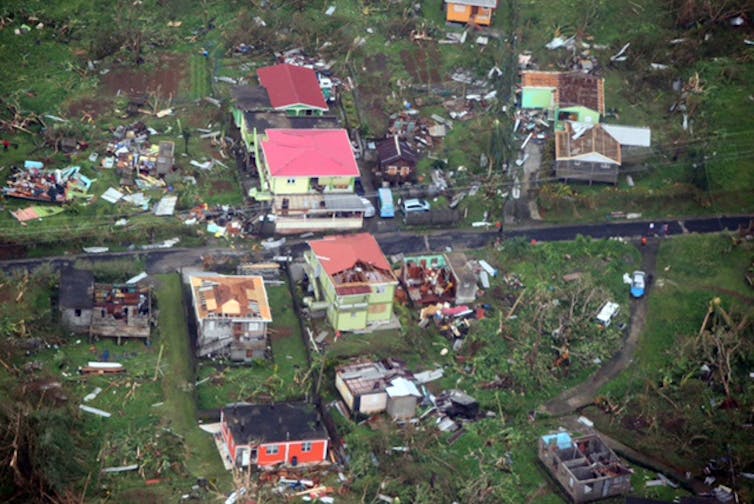 Dominica was nearly flattened by Hurricane Maria in September 2017. Courtesy Nigel R. Browne/Caribbean Disaster Emergency Management Agency
Caribbean academics take the lead
Such policies are what Branson and others call "climate-smart." While preparing countries for extreme weather, they create jobs and boost key industries. The result is an economy custom-built for the future.