Law enforcement has a classification problem, and it's making America more dangerous.
For the last two decades, local police and the FBI have categorized the criminal activities of white power groups as isolated incidents or hate-related.
We believe that's wrong and leads to a lack of understanding of the power of these groups and the direction they are taking. It also leads to the under-policing of these groups.
As criminologists, our research is based on the rationale that "alt-right" groups are no different from conventional street gangs.
A uniform definition for a "gang" does not exist among scholars or law enforcement. However, criminal codes usually define a street gang as an ongoing group, club or association composed of five or more individuals that participate in either a felony, simple assault or destruction of property.
Categorizing alt-right groups as gangs would increase the attention they get from law enforcement and likely stem their violence. When police use traditional crowd control techniques to corral alt-right gangs at public demonstrations, it only reduces the chances of violence and does not address the root cause of white supremacy.
Unless law enforcement changes their approach accordingly, these groups will likely continue to grow and contribute to increases in extremist violence, particularly anti-Semitic attacks.
From tweets to the streets
In spite of public perception, scholars point out that the alt-right is not composed of "lone wolves" or a bunch of "Internet trolls."
Nor is it a monolith with a unified ideology.
Instead, the alt-right is composed of a variety of factions that oppose multiculturalism, feminism, political correctness, globalism, establishment politics and immigration, and support President Donald Trump. The group's core, however, is a racist movement revolving around beliefs of white nationalism including anti-Semitism and fear of "white racial genocide."
Over the last two decades, the white power movement has adapted to thrive with the growth of the internet and social media. Digital communication platforms such as message boards, blogs and social media have provided an cheap way to promote white supremacy ideology, recruit members and maintain social ties between members.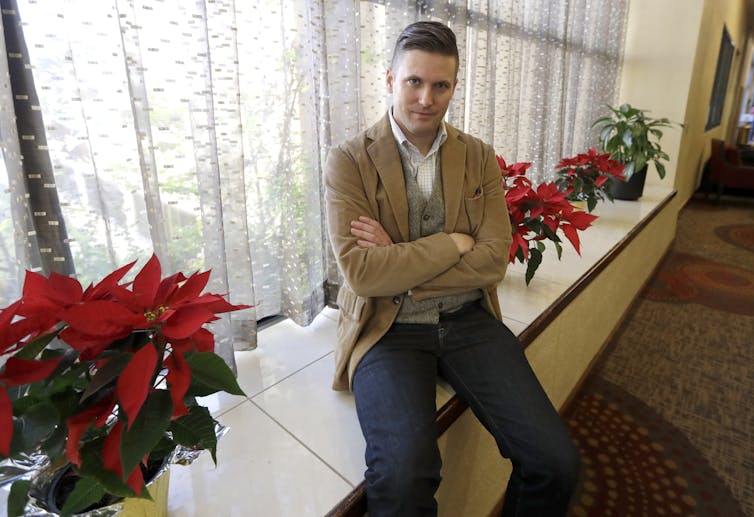 Richard Spencer, a leader in the 'alt-right' that mixes racism, white nationalism and populism. AP Photo/David J. Phillip
Even though the alt-right evolved in the digital world, it has manifested in the real world. Alt-right gangs are regularly seen demonstrating and rallying in public, as in Charlottesville, Berkeley and Portland, Oregon. All of those events ended in violence. Recently, in New York alt-right gangs have abandoned the pretense of peaceful gatherings and are now openly participating in street brawls.
Since 2017, the nonprofit Jewish organization, the Anti-Defamation League, has documented 54 far-right extremist protests and demonstrations, particularly in more progressive urban centers across the United States.
In the past year, the ADL has also documented more than 900 incidents of white power propaganda on or near college campuses.